I would like to invite you to share in the fun and check out my new blog covering the Mid Market Area. The neighborhood is exploding with new restaurants, including a Sri Lankan one, which I will review next week.  A dish of 1601's picked vegetables are pictured here: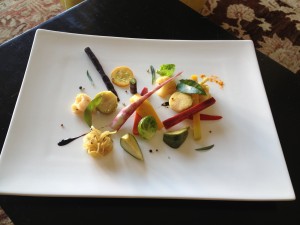 Picture courtesy of 1601 Bar & Kitchen.
The area is exploding with new construction as companies like Square, Twitter and Kings Lane move into the area. It is slated to be home to new restaurants from the AQ and Daniel Patterson group as well.
I will reveal some great pairings for Sri Lankan dishes in my next post.
Cin Cin,
Liza the Wine Chick